PROJECT CONTEXT
THE LABORATORY OF APPLIED OPTICS (LOA) IS A JOINT RESEARCH UNIT BETWEEN ENSTA – PARIS TECH – CNRS – ÉCOLE POLYTECHNIQUE.
ITS RESEARCH ACTIVITIES COVER A BROAD SCIENTIFIC SPECTRUM, INCLUDING ULTRA-BRIGHT LASER SOURCES, WHICH OPEN UP PROSPECTS IN MANY AREAS OF FUNDAMENTAL AND APPLIED SCIENCES.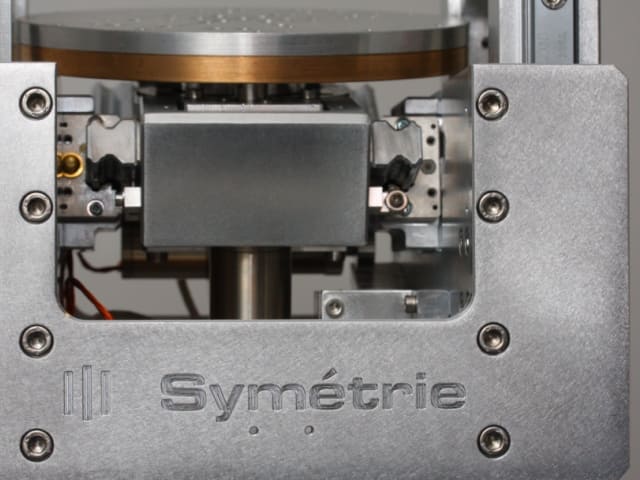 CUSTOMER REQUEST
The LOA wished to equip its facilities with a system allowing to position a solid target or a gas jet in vacuum with precision in the scope of the project ILE (Extreme Light Institute) – LUIRE (High Recurrence Ultra Intense Laser).
SPECIFICITIES OF THE PROJECT
Symetrie manufactured a high precision (5 µm) vacuum (10-6 mbar) compatible positioner.
This compact serial system achieves travel ranges of 100 mm in a footprint smaller than a 300 mm side cube. It consists of 5 axes: 3 linear axes and 2 rotation axes, including one continuous rotation.