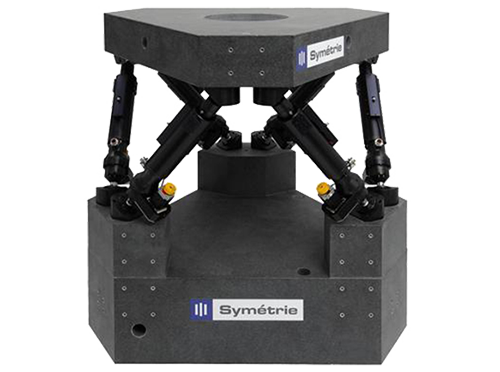 PRECISION POSITIONING HEXAPOD WITH HIGH STABILITY
JORAN hexapod is a high precision system designed to position and adjust elements with a 0.5 µrad angular resolution.
The conception of JORAN, particularly of its actuators, spherical joints and natural granite platforms, ensures great stability and guarantees the positioning quality over time.
Ceramic spherical joints can be replaced by universal joints if the angular travel range is too large or if external forces are too big.
Developed in collaboration with the European Synchrotron ESRF, it is ideal to support mirrors or vacuum chambers on synchrotrons beamlines.
Granite platforms can be replaced by steel platforms if preferred.
Motion and positioning
 
JORAN BJ
JORAN UJ
 
Ball Joints
Universal Joints
Travel range Tx, Ty (mm)
± 75
± 170
Travel range Tz (mm)
± 50
± 100
Travel range Rx, Ry (deg)
± 5
± 10
Travel range Rz (deg)
± 8
± 18
Resolution Tx, Ty, Tz (µm)
0.1
Resolution Rx, Ry, Rz (µrad)
0.5
Repeatability Tx, Ty, Tz (µm)
± 0.25
Repeatability Rx, Ry, Rz (µrad)
± 1
Speed Tx, Ty (mm/s)
0.6
Speed Tz (mm/s)
0.4
Speed Rx, Ry (deg/s)
0.045
Speed Rz (deg/s)
0.07
Mechanical properties
 
JORAN BJ
JORAN UJ
 
Ball Joints
Universal Joints
Payload capacity (kg)
(vertical orientation)
1500
Motor type
 Stepper motor
Encoder type
Absolute linear encoders
Miscellaneous
| | | |
| --- | --- | --- |
|   | JORAN BJ | JORAN UJ |
|   | Ball Joints | Universal Joints |
| Operating temperature range (°C) | 0 to + 50 | 0 to + 50 |
| Size mobile platform (mm) | Ø 1300 | Ø 1300 |
| Materials | Aluminum, steel, stainless steel, ceramic | Aluminum, steel, stainless steel |
| Footprint (mm) | Ø 1300 | Ø 1300 |
| Height in middle position (mm) | 750 | 750 |
| Mass (kg) | 272 | 272 |
| Cable length (m) | 5 | 5 |
Controller
 
JORAN BJ
JORAN UJ
 
Ball Joints
Universal Joints
Controller type
ALPHA+
Interface
Ethernet
Power supply
110-240 VAC / 50-60 Hz
Higher speed with brushless or DC motor