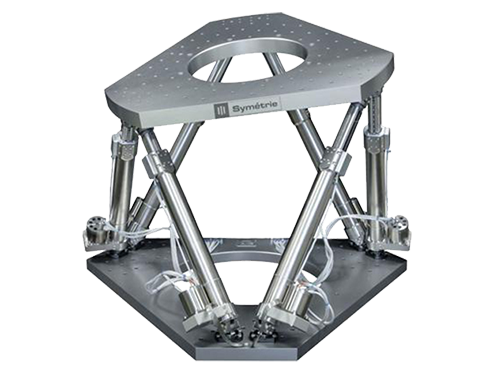 HIGH ACCURACY AND HEAVY PAYLOAD
ZONDA hexapod is a new high-performance 6DOF system meeting applications requiring both high precision, stability, accuracy, heavy load and large travels.
Designed to position up to 400 kg payload with a resolution of 0.1 µm only, ZONDA hexapod offers great travel with 400 mm in XY, 300 mm in Z, and 40 ° in the three rotations Rx, Ry and Rz.
ZONDA hexapod has unmatched accuracy and thermal stability characteristics thanks to the integrating Invar components with a very low CTE (Coefficient of Thermal Expansion), linear absolute encoders integrated as a standard in the actuators and the design of particularly rigid joints.
ZONDA hexapod can be used in any orientation: vertical, horizontal, upside down…
Motion and positioning
| | | |
| --- | --- | --- |
|   | ZONDA S | ZONDA |
|   | for small travel range | for large travel range |
| Travel range Tx, Ty (mm) | ± 50 | ± 200 |
| Travel range Tz (mm) | ± 25 | ± 150 |
| Travel range Rx, Ry (deg) | ± 10 | ± 20 |
| Travel range Rz (deg) | ± 20 | ± 20 |
| Resolution Tx, Ty, Tz (µm) | 0.1 | 0.1 |
| Resolution Rx, Ry, Rz (µrad) | 1.5 | 0.5 |
| Repeatability Tx, Ty, Tz (µm) | ± 0.25 | ± 0.25 |
| Repeatability Rx, Ry, Rz (µrad) | ± 2.5 | ± 1 |
| Speed Tx, Ty (mm/s) | 0.55 | 0.8 |
| Speed Tz (mm/s) | 0.4 | 0.4 |
| Speed Rx, Ry (deg/s) | 0.075 | 0.2 |
| Speed Rz (mm/s; deg/s) | 0.12 | 0.4 |
Mechanical properties
 
ZONDA S
ZONDA
Stiffness X, Y (N/µm)
5
8.5
Stiffness Z (N/µm)
50
30
Payload capacity (kg) (vertical orientation / horizontal orientation)
400 / 140
400 / 140
Motor type
Stepper
Encoder type
Absolute linear encoder
Miscellaneous
 
ZONDA S
ZONDA
Operating temperature range (°C)
0 to + 75
0 to + 75
Materials
Aluminum, stainless steel, Invar, Peek
Size mobile platform (mm)
Ø 320
Ø 720
Height in middle position (mm)
360
640
Mass (kg)
37
99
Cable length (m)
3
Controller
 
ZONDA S
ZONDA
Controller type
ALPHA+
Interface
Ethernet
Power supply
110-240 VAC / 50-60 Hz
Higher speed with brushless or DC motor