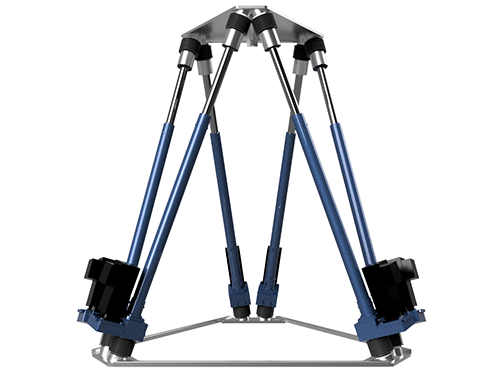 A POWERFUL HEXAPOD
AQUILON hexapod is the most powerful hexapod of our range. It provides motion for a 6 ton-payload in the 6 degrees of freedom.
Versions with a higher payload capacity can be realized if needed.
AQUILON is mostly used for swell simulation, sloshing and defense (turret tests) applications.
Motion and positioning
| | |
| --- | --- |
| Travel range Tx, Ty (mm) | ± 800 |
| Travel range Tz (mm) | ± 650 |
| Travel range Rx, Ry, Rz (deg) | ± 40 |
| Speed Tx, Ty (mm/s) | 1 800 |
| Speed Tz (mm/s) | 1 600 |
| Speed Rx, Ry (°/s) | 200 |
| Speed Rz (°/s) | 100 |
| Acceleration Tx, Ty, Tz (mm/s²) | 7 000 |
| Acceleration Rx, Ry (°/s²) | 1 200 |
| Acceleration Rz (°/s²) | 600 |
Mechanical properties
Payload capacity (kg)
(vertical orientation only)
6000
Motor type
Brushless
Miscellaneous
| | |
| --- | --- |
| Operating temperature range (°C) | 0 to + 50 |
| Size mobile platform (mm) | Ø 2 100 |
| Height in middle position (mm) | ~ 3 311 |
| Mass (kg) | ~ 3 000 |
| Cable length (m) | 15 |
Controller
| | |
| --- | --- |
| Interface | Ethernet |
| Power supply | 400 VAC (three-phase) / 250 A |
Customized platform design
Acquisition (storage of motions)
External real-time trajectory control (ERTT)