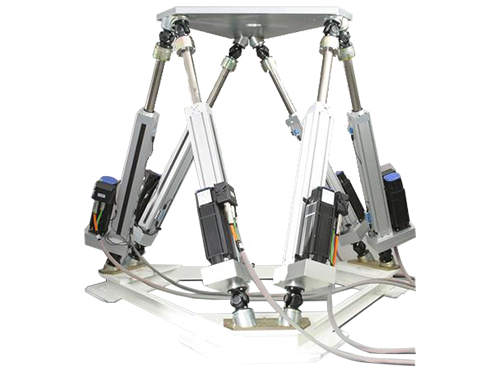 FOR MOTION SIMULATION
Mistral hexapod is a dynamic system providing 6 degrees of freedom (6 DOF).
With efficient mechanical components, Mistral hexapod allows motion generation for up to 1 ton loads with important linear and angular travel ranges (up to ±460 mm in linear travel and ±40° in angular travel).
This hexapod was first designed to realize a heave motion to test boat hulls.
Mistral hexapod can also reproduce the trajectories of land, naval, or air vehicles and thus allows lab testing of sensors, SATCOM antennas, electro-optics systems… that will then be put onboard.
Motion and positioning
 
MISTRAL 600
MISTRAL 800
 
P: 1000 kg payload
V: 500 kg payload
P: 1000 kg payload
V: 500 kg payload
Travel range Tx, Ty (mm)
± 400
± 460
Travel range Tz (mm)
± 300
± 400
Travel range Rx, Ry (deg)
± 30
Travel range Rz (deg)
± 40
Speed Tx, Ty, (mm/s)
1 000
1 200
1 000
1 200
Speed Tz (mm/s)
600
1 000
600
1 000
Speed Rx, Ry (°/s)
50
100
50
100
Speed Rz (°/s)
70
140
70
140
Acceleration Tx, Ty, (mm/s²
5000
8000
5000
8000
Acceleration Tz (mm/s²)
6000
8000
6000
8000
Acceleration Rx, Ry (°/s²
500
800
500
800
Acceleration Rz (°/s²)
700
1100
700
1100
Mechanical properties
 
MISTRAL 600
MISTRAL 800
 
P: 1000 kg payload
V: 500 kg payload
P: 1000 kg payload
V: 500 kg payload
Payload capacity (kg)
(vertical orientation only)
1 000
500
1 000
500
Miscellaneous
 

MISTRAL 600

MISTRAL 800

 

P: 1000 kg payload

V: 500 kg payload

P: 1000 kg payload

V: 500 kg payload

Operating temperature range (°C)

0 to + 40

Size mobile platform (mm)

Ø 1 386

Height in middle position (mm)

~1 440

~1 765

Mass (kg)

~ 400

~ 450

Cable length (m)

10
Controller
 
MISTRAL 600
MISTRAL 800
 
P: 1000 kg payload
V: 500 kg payload
P: 1000 kg payload
V: 500 kg payload
Interface
Ethernet
Power supply
400 VAC (three-phase) / 32 A
Specific joints for large angles
Extra Rz rotation in the mobile platform (C axis)
Acquisition (storage of motions)
External real-time trajectory control (ERTT)