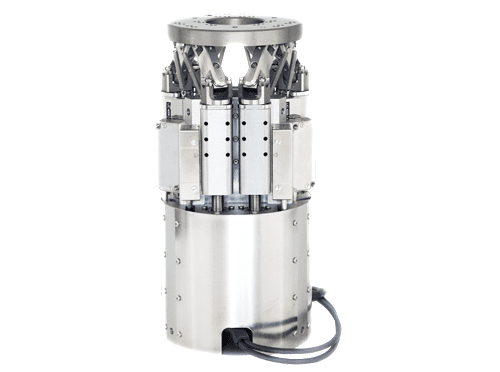 Precision in a small diameter
MAUKA is a compact hexapod designed to position up to 5 kg payloads with a submicrometer resolution.
MAUKA hexapod offers travel ranges of 10 mm in X and Y, 20 mm in Z, and 16° in the three rotations. Its diameter is 107 mm and it is 198 mm height in mid position.
To minimize the diameter, we used a hexaglide geometry, where motors are mounted in line.
MAUKA hexapod operates in any direction: vertically, horizontally, or in any other angle. It is irreversible, even after a power failure.
Thanks to its absolute linear encoders, it is not necessary to carry out a homing command each time the controller is turned back on, the hexapod position is immediately known, without having to make any hexapod movement.
Motion and positioning
| | |
| --- | --- |
| Travel range Tx, Ty (mm) | ± 5 |
| Travel range Tz (mm) | ± 10 |
| Travel range Rx, Ry (deg) | ± 8 |
| Travel range Rz (deg) | ± 8 |
| Resolution Tx, Ty, Tz (µm) | 1 |
| Resolution Rx, Ry, Rz (µrad) | 10 |
| Repeatability Tx, Ty, Tz (µm) | ± 0.5 |
| Repeatability Rx, Ry, Rz (µrad) | ± 5 |
| Speed Tx, Ty (mm/s) | 1.6 |
| Speed Tz (mm/s) | 1 |
| Speed (deg/s) | 2 |
Mechanical properties
| | |
| --- | --- |
| Stiffness X, Y (N/µm) | 0.7 |
| Stiffness Z (N/µm) | 4 |
| Payload capacity (kg) (vertical orientation / horizontal orientation) | 5 / 2.5 |
| Motor type | DC motor, gearhead |
| Encoder type | Absolute linear encoder |
Miscellaneous
| | |
| --- | --- |
| Operating temperature range (°C) | 0 to + 50 |
| Materials | Aluminum, steel, stainless steel |
| Mobile platform size (mm) | Ø 90 |
| Mobile platform central aperture (mm) | Ø 38 |
| Fixed platform size (mm) | Ø 100 |
| Fixed platform central aperture (mm) | Ø 30 |
| Height in middle position (mm) | 198 |
| Footprint (mm) | Ø 107 |
| Mass (kg) | 3 |
| Cable length (m) | 3 |
Controller
| | |
| --- | --- |
| Controller type | ALPHA+ |
| Interface | Ethernet |
| Power supply | 110-240 VAC / 50-60 Hz |