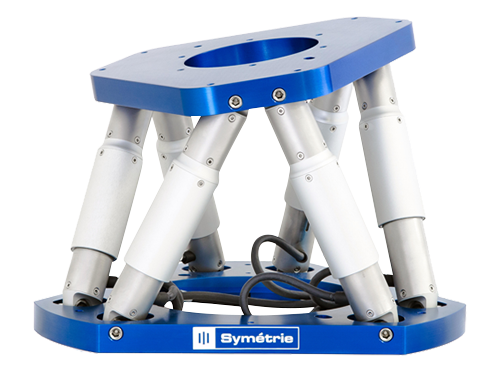 PUNA is a simple hexapod meeting precision positioning applications in research or industry with an optimized budget.
Indeed PUNA hexapod can meet limited budgets while offering a resolution of 0.5 µm in translation and 5 µrad (0.0003 °) in rotation for a payload capacity of 25 kg.
To simplify the design, the motor is mounted in line and incorporates an incremental rotary encoder.
Motion and positioning
| | |
| --- | --- |
| Travel range Tx, Ty (mm) | ± 30 |
| Travel range Tz (mm) | ± 20 |
| Travel range Rx, Ry (deg) | ± 11 |
| Travel range Rz (deg) | ± 20 |
| Resolution Tx, Ty, Tz (µm) | 0.5 |
| Resolution Rx, Ry, Rz (µrad) | 5 |
| Repeatability Tx, Ty, Tz (µm) | ± 0.75 |
| Repeatability Rx, Ry, Rz (µrad) | ± 3.2 |
| Speed Tx, Ty (mm/s) | 3 |
| Speed Tz (mm/s) | 1.25 |
| Speed Rx, Ry (deg/s) | 1.25 |
| Speed Rz (deg/s) | 0.75 |
Mechanical properties
| | |
| --- | --- |
| Stiffness X, Y (N/µm) | 1.75 |
| Stiffness Z (N/µm) | 30 |
| Payload capacity (kg) (vertical orientation / horizontal orientation) | 25 / 10 |
| Motor type | DC motor, gearhead |
Miscellaneous
| | |
| --- | --- |
| Operating temperature range (°C) | 0 to + 50 |
| Materials | Aluminum, steel, stainless steel |
| Mobile platform size (mm) | Ø 250 |
| Mobile platform central aperture (mm) | Ø 100 |
| Fixed platform size (mm) | Ø 320 |
| Fixed platform central aperture (mm) | Ø 144 |
| Height in middle position (mm) | 200 |
| Footprint (mm) | Ø 320 |
| Mass (kg) | 5.6 |
| Cable length (m) | 3 |
Controller
| | |
| --- | --- |
| Controller type | NAOS or ALPHA+ if cable length > 20 m or temperature < 0°C |
| Interface | Ethernet |
| Power supply | 110-240 VAC / 50-60 Hz |