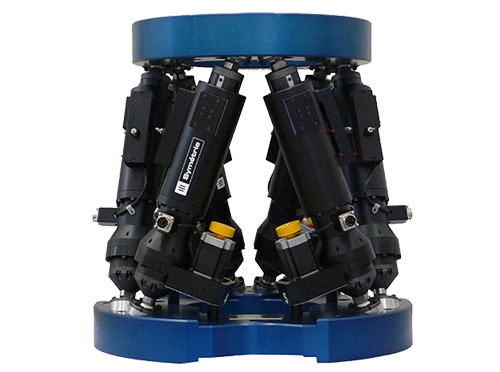 PRECISION POSITIONING HEXAPOD WITH HIGH STABILITY
Kuban hexapod is a very stable 6DOF system designed to position elements in space with high precision and with a resolution of 1.5 µrad.
The configuration and the integration of high resolution actuators and high precision spherical joints enable KUBAN hexapod to achieve high performances of resolution and repeatability with up to 500 kg payloads.
For this hexapod, the actuators are the same as those used for JORAN hexapod, but with a more compact configuration.
Motion and positioning
| | |
| --- | --- |
| Travel range Tx, Ty (mm) | ± 75 |
| Travel range Tz (mm) | ± 45 |
| Travel range Rx, Ry (deg) | ± 5 |
| Travel range Rz (deg) | ± 10 |
| Resolution Tx, Ty (µm) | 0.2 |
| Resolution Tz (µm) | 0.1 |
| Resolution Rx, Ry (µrad) | 1.5 |
| Resolution Rz (µrad) | 2 |
| Repeatability Tx, Ty (µm) | ± 0.5 |
| Repeatability Tz (µm) | ± 0.25 |
| Repeatability Rx, Ry (µrad) | ± 2.5 |
| Repeatability Rz (µrad) | ± 4 |
| Speed Tx, Ty (mm/s) | 0.9 |
| Speed Tz (mm/s) | 0.4 |
| Speed Rx, Ry (deg/s) | 0.12 |
| Speed Rz (deg/s) | 0.3 |
Mechanical properties
| | |
| --- | --- |
| Payload capacity (g) (vertical orientation) | 500 |
| Motor type | Stepper motor |
| Encoder type | Absolute linear encoder |
Miscellaneous
| | |
| --- | --- |
| Operating temperature range (°C) | 0 to + 50 |
| Materials | Aluminum, steel, stainless steel |
| Size mobile platform (mm) | Ø 450 |
| Central aperture (mm) | Ø200 form mobile platform ; Ø280 for fixed platform |
| Height in middle position (mm) | 600 |
| Mass (g) | 140 |
| Cable length (m) | 5 |
Controller
| | |
| --- | --- |
| Controller type | ALPHA+ |
| Interface | Ethernet |
| Power supply | 110-240 V AC 50-60 Hz |
Higher speed with brushless or DC motor